---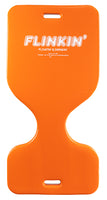 FLINKER 
You can't "Float & Drink" without something to float on.  We've solved that problem with our FLINKERS.  You say you've seen saddles like this before?  Sure, there are all kinds of saddles out there but not with our quality and thickness.  Don't buy any old saddle, buy a FLINKER!  These comfortable high-quality floats are ready to straddle or lean back on. No inflation needed!
FLINKERS work great in the lake, river, pool or anywhere you enjoy FLINKIN'.  Ours is thicker than most you'll find.  Try em' and enjoy your day FLINKIN'.

Handle Makes it easy to carry or grab in the water. Flat for easy storage.
Made in the USA

Approximate Dimensions: 35" long x 16.6" wide x 1.75" thick
Features:
Great for the lake, river, pool or beach.
Made from closed-cell foam.
Vinyl-coated for durability.
Easy to clean and disinfect.
Comfortably supports all sizes.
Perfect for

 

FLINKIN'.